When I hit a snag or I needed help, I always had a professor or advisor, someone reaching out their hand.
Prepared For The Next Step
Lauren Bryant '18 (biology and psychology) has big plans for the future. She is enrolling at the Indiana University School of Medicine in fall 2018 to pursue a career in child and adolescent psychiatry.
As the number of student applications rise for medical and graduate schools, institutions look for experiences that set applicants apart, including student life activities that demonstrate an ability to multitask, manage schedules and be a leader.
Dedication and commitment in and out of the classroom helped Lauren stand out as a competitive candidate for the program.
I like to be involved, to contribute, to help out. UIndy gave me opportunities to do that on a larger scale than I'd experienced before. The students affect what events are and what the campus feels like, and that's incredible.

Lauren Bryant '18
UIndy Presidential Ambassador Program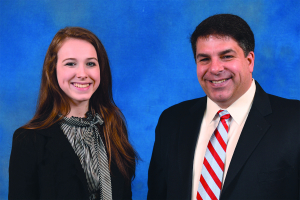 This leadership training program gives select students the unique opportunity to work closely with the Office of the President, representing the University when high-profile guests and events come to campus. Lauren remembers vividly a "fangirl" moment when she met Former Surgeon General of the United States Joycelyn Elders and had a few minutes to talk with her about the world of medicine. She's also been in the company of former Indianapolis mayor Greg Ballard and UIndy President Rob Manuel.
"We have so many guests and special events at UIndy; being on the inside of those events and getting one-on-one time with the speakers is really fun."
Learn more about the Presidential Ambassador program at uindy.edu/presidentialambassador
500 Festival Princess
Even this, an activity that seems unrelated to UIndy, has a connection. Lauren, a 2018 Indianapolis 500 Festival Princess, first heard about the program from a fellow UIndy student who she met in the cafeteria. The past princess gave her the rundown and motivated her to apply. The 500 Festival Princess Program celebrates Indiana's most civic-minded, academically driven young women. Serving as a 500 Festival Princess provides young women with once-in-a-life-time experiences and countless opportunities for leadership and professional development.
"I would be at level zero without my campus experiences at UIndy."

Lauren Bryant '18
Honor Student Association
Lauren joined the Honor Student Association as a freshman and worked her way up to president of the UIndy chapter by her senior year. Looking back, she sees how this experience is woven into the fabric of her life: she got to know faculty who later wrote strong letters of recommendation for her; she learned about an opportunity to visit the Galapagos Islands to study bio-diversity and received a scholarship to make the trip; plus she found study partners and friends.
"Getting involved in an academic club helped me get to know people from every department," she said. "I learned about the university's past and got more connected to social opportunities around campus."
PSI CHI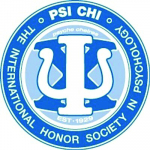 The International Honor Society in Psychology
As vice president junior and senior year, Lauren's responsibilities included organizing mental health campaigns on campus, bringing in guest speakers and helping psychology students prepare for graduate school and leadership roles after college. Lauren says this organization was her "main connection to psychology happenings outside the classroom," making it easy for her to network and grow relationships. "Building those connections with people in the field – those are things you'll never get from sitting in class."
UIndy Connectors
When the social media ambassador program started in 2017, Lauren was one of the first students to sign up. "I like to brag about my school on social media anyway, so it's cool to get rewarded for things I already enjoy doing," Lauren said. The experience made her more social media savvy and also inspired new ideas about being an advocate, making connections and promoting things that matter to her.
UIndy Dance Team
Want to become a good communicator? Try leading a group of 16 young women!
Lauren has been on the UIndy dance team for four years, including two years as vice president and one year as the fundraising chair. She says the experience taught her how to work as a team and to stick with challenges, even when things
get tough.
"There was a lot of discipline instilled in me during 6 a.m. workouts," Lauren laughed. "There's no challenge in communicating with the same people all the time. It's important to establish new connections with different people and to show your ability to multitask and manage schedules. That's what will make you a competitive applicant for graduate schools or employers."
"It's about building team spirit, managing different ideas and balancing a lot of moving parts. I'm a piece of a puzzle, and that puzzle has a greater purpose than myself as an individual."
It's important to establish new connections with different people and to show your ability to multitask and manage schedules.

Lauren Bryant '18