As the first University of Indianapolis student to graduate from the new sculpture program, Maya Johnson '20 is a pioneer. Now, her work will live on along the banks of the White River, thanks to a unique opportunity made possible by University of Indianapolis Art & Design faculty.
James Viewegh, Department of Art & Design chair and professor, and Nathaniel Foley, assistant professor of art, created the concept for the "River Fish" stainless steel sculptures. The chance of a lifetime arrived when they invited Johnson to assist in the production.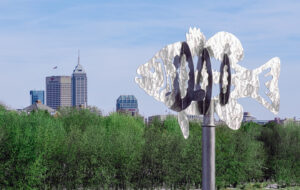 Working with the R. B. Annis School of Engineering, Foley and Johnson used the department's state-of-the-art water jet cutter to slice the sculptures out of stainless steel planks. Johnson put the finishing touches on the sculptures, which represent four species of fish that inhabit the river.
In addition to learning how to use the water jet cutter, Johnson picked up new welding skills while working on the project.
"I have been exposed to all kinds of tools and techniques I may have not gotten a chance to really explore without this project," she said. "This experience is critical because it expands my toolbox of knowledge for when I want to create pieces on my own after I graduate."
Foley, who heads UIndy's new sculpture program, was eager for student involvement in the River Fish project, which was developed through the City of Indianapolis Public Art for Neighborhoods Program.
"Having Maya Johnson on the project was extremely vital and important for her development as a young sculptor and artist. Having this experience and exposure to understanding what it takes to go from raw material to actual physical installation, it's a very daunting physical task," Foley recalled.
While the chance to be involved in such a high-profile project so early on in her career came as a pleasant surprise, Johnson said the studio art program provided her with the confidence and skills to succeed.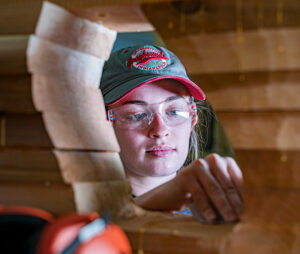 "I can't imagine getting the kind of support that I get here in the UIndy art department at any other art program. You are constantly being encouraged to try new things and explore new ideas while also being taught the critical basics and techniques to make quality artwork."

Maya Johnson '20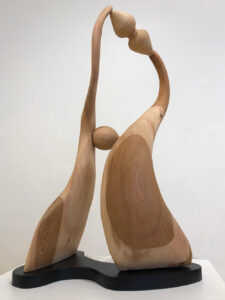 Johnson said it was thrilling to be part of a public art project with such high visibility.
"Thinking about all the people who will see and interact with it for years to come and to know that I participated in creating it is very exciting to me. I truly hope it brings some life to the space and interests everyone who [experiences] it."
Learn more at uindy.edu/cas/art-design