As a teenager growing up in Saudi Arabia, Esraa Bintalib '18 always knew community service would be part of her future.
Esraa Bintalib '18 chose sociology as her major with a criminal justice minor and a concentration in community organizing. This combination, together with her cultural background, turned out to be the perfect fit for an internship with Beacon of Hope Crisis Center.
With guidance from Kevin Whiteacre, Department of Criminal Justice chair, Bintalib applied for an internship with Beacon of Hope Crisis Center during her senior year. The organization, which serves clients contending with domestic violence and sexual assault issues, created an outreach role for Bintalib with the goal of establishing partnerships with the Muslim community through Islamic schools, associations, mosques and student groups. The work was "close to my heart," said Bintalib.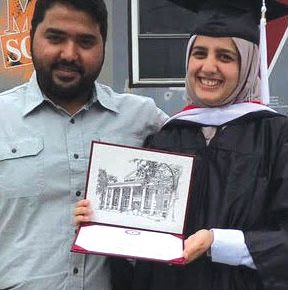 "I was so happy to see how [Beacon of Hope Crisis Center] accommodated people from different religious backgrounds."
"When Esraa sent in her application to be an intern, we saw her skill set and that she was a fluent Arabic speaker and a Muslim, so we jumped on that opportunity and created a job description for her as community outreach intern," said Jessica Counsell, victim advocate and crisis call intervention coordinator at Beacon of Hope Crisis Center. "She was so valuable to our organization's vision." Bintalib and Counsell collaborated to produce several presentations to various groups representing a wide range of cultures.
UIndy is the greatest not just because of the events that take place on campus, but also the connections you make off campus.

Esraa Bintalib '18
Bintalib networked with Exodus Refugee Inc., an Indianapolis-based refugee resettlement agency led by UIndy alum Cole Varga '10 (M.A., international relations), and arranged to present an educational program. Other clients included the Al-Taqwa Mosque and the MTI School of Knowledge.
Service-learning had a profound impact on Bintalib during the development of her professional skills. As a freshman, she volunteered with the YMCA as an after-school program helper at the Laurelwood Community Center as part of a service-learning lab with Marianna Foulkrod, director of UIndy's Center for Service-Learning & Community Engagement.
Bintalib said she feels grateful for faculty mentors who helped shape her professional development. "Both Marianna and [Sociology Chair] Amanda Miller made informed suggestions about agencies that would be a good fit for me. I'm also grateful to Kevin Whiteacre, who gave me the opportunity to complete my internship with Beacon of Hope."
Bintalib also participated in community service opportunities with SENSE Charter School on Indianapolis's south side as an assistant social worker and assistant kindergarten teacher in 2015, and returned in 2018 to build a resource database for the school's large Latinx community.
"I saw the daily challenges for the school's social worker. It takes a lot of patience," Bintalib said. "Those communication skills will be invaluable to me as I continue my career." Bintalib was recently honored with the Department of Sociology's Hendricks Award, presented to the student with the highest GPA in the department.
After returning to Saudi Arabia with her family following graduation, Bintalib plans to pursue a career as a school social worker. She says she's grateful not only for the interpersonal and professional skills she's acquired through the program, but also for her family's support.
As the Chair of the Sociology department at the University of Indianapolis, I am proud of the work we do for many reasons, but highest on the list is the incredible community work done by our students. Sociology is a living discipline. We do not just study inequality and other social problems in our local, national, and global communities- we actually do something to go about remedying them!

Whether students choose to participate in a research practicum where they help our communities learn about social issues or a service practicum where they utilize their academic knowledge to help non-profit organizations better meet community needs, our students are at the forefront of change. A number of required classes in our curriculum also give students the chance to work as teams to tackle real-life problems.

These types of opportunities help our students go on to fantastic careers as employees in non-profits, analysts in research firms, or community leaders who help strengthen our city and beyond. Our faculty is privileged to supervise students in these opportunities early in their academic careers, watch them grow in their first jobs, and, for some, even get to work with them more deeply when they return to our program for a master's degree. It is wonderful watching the difference that our students and alumni are making in the world every single day.

Amanda Miller, Associate Professor, Sociology
Learn more about UIndy's sociology program at uindy.edu/cas/sociology.