The opportunity for transformative experiences is built into the curriculum at the University of Indianapolis. For Karlye Vonderwell '21, a faculty-led trip to India in spring 2018 would fundamentally change her outlook.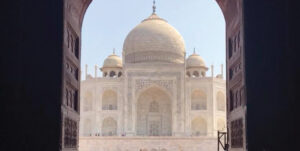 "It was a truly eye-opening experience that taught me many lessons that I would have never otherwise had the chance to learn. I was introduced to a beautiful country and culture that is so drastically different from my own, and that firsthand experience is unforgettable," she explained.
Vonderwell is a double major in international relations and political science, with minors in French and Spanish. The knowledge she gained during the trip to India was just one aspect of the mentorship and guidance she's received as a student in the Department of History, International Relations and Political Science.
Vonderwell has served as an orientation leader for her academic department. She has also worked on the UIndy Move-In Crew and has taught English as a Second Language (ESL) through Central Nine Adult Education.
"My work on campus has introduced me to a wide variety of people from a diverse array of backgrounds. I have made long-lasting friendships from all over Indiana, the United States and the world," she said.
Vonderwell said faculty and staff "are always looking for ways to help students further down their road to success." She recounted how Milind Thakar, associate professor of international relations, guided her through research papers and courses.
"As my mentor, Dr. Thakar kept me on the right track, making sure that I was well prepared and that I knew what was expected of me. However, the most influential part of his mentoring was the freedom that he allowed me. I was never not 100 percent in control of my own research, which allowed me to really learn," she said. Vonderwell's international experience is already paying dividends.
"I now have firsthand experience with a developing country, making me more desirable in the job market," she said. "The more important way that the trip benefited my future is the fact that I now have a connection to every person I meet who is from India."
When an Indian student in her ESL class was struggling, Vonderwell mentioned her experience in the country.
"As soon as I told her that I had traveled to India, her face lit up and we had several wonderful conversations about her home. That is the biggest benefit I take away from the trip–being able to connect with people that I wouldn't have otherwise been able to connect with and make them feel more comfortable."