What started as a class assignment put Amy Doren '21 on the road to her future career. The fluent Spanish speaker was working in the English as a New Language program at Indianapolis' SENSE Charter School when she discovered her calling.
"As soon as I stepped into that class I fell in love," Doren said. "I worked personally with two students who recently came from Guatemala and was able to connect with them very easily."
Doren, a social work major with a minor in child and youth programs, transformed the opportunity into a service-learning lab, putting in extra hours to meet students' needs while pursuing her passion.
"I'm so glad I was able to have this experience due to my child and youth programs minor. It helped me realize how taking the time to be there for someone can make a huge, positive impact. That's something I want to do for the rest of my life," she said.
One of the reasons I chose UIndy is because of how nice everyone is, especially our faculty. I was welcomed from day one, and continue to be welcomed and accepted for who I am.

Amy Doren '21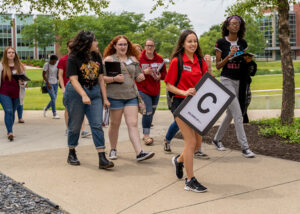 An Indianapolis native and Pike High School graduate, Doren is making the most of opportunities on- and off-campus. She was excited to join the Student Organization of Latinos (SOL), where she's risen to a leadership role as vice president.
"Being a member of SOL is something that really helped me get in touch with my culture. It inspired me to be proud of where I come from," she explained.
Doren also has served as a Greyhound ambassador and orientation leader—experiences that expanded her knowledge of UIndy and helped her break out of her shell.
"I love being a helping hand for new students," Doren said, recalling her own nervous feelings at the start of freshman year. As the first person in her family to attend university, she appreciates the support network that is built into UIndy's campus life.
Doren's college experience was enhanced after switching from being a freshman commuter to living on campus as a sophomore, where she connected with mentors and met some of her best friends through study nights, coffee runs and cooking dinners together.
Following graduation, Doren plans to pursue her master's degree in social work.
"I am lucky to have an amazing support system at home cheering me on in any way they can. I just want to make my family proud!" Doren said.