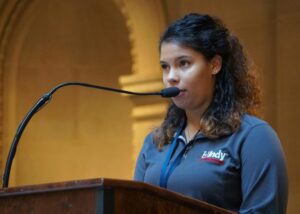 Regan Johnson '19 took the podium at the Indiana Statehouse in early 2018 to educate lawmakers about the power of physical therapy in fighting the state's opioid crisis.
Johnson's resolution was part of a statewide movement that allowed for increased conversations between physical therapists, physical therapist assistants and students of physical therapy in an area of need in the state. A year later, Indiana Gov. Eric Holcomb signed a new physical therapy bill (SB 586) into law, making history with the first major overhaul of the state's Physical Therapy Practice Act in more than 60 years.
Finding new ways to advocate for patients is built into the DNA at the University of Indianapolis College of Health Sciences. Dr. Emily Slaven, associate professor of physical therapy, serves as President of the Indiana Chapter of the American Physical Therapy Association (INAPTA). She helped organize Physical Therapy Day at the Statehouse, which galvanized the movement and offered students from the Krannert School of Physical Therapy the opportunity to influence the creation of the new law.

Dr. Slaven noted that Indiana was one of the last states to receive direct access to physical therapy, which allows patients to see a physical therapist without a prescription. Advocates were eager for additional reform after the direct access law passed in 2013.
"Everything else [in Indiana's Physical Therapy Practice Act] was very dated in the language and didn't reflect what we currently do as physical therapists in the scope of our education," Dr. Slaven explained. "We knew we wanted to make some really big changes and bring them to the legislature."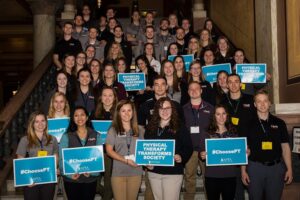 Dr. Slaven and the INAPTA State Legislative Committee spent 18 months crafting new language. Most significantly, the 2019 law creates a five-person physical therapy board to regulate the practice in Indiana.
"Having autonomy to govern our profession is one of the key goals," Dr. Slaven said.
The new law increases the number of days a patient may see a physical therapist without a medical referral from 24 to 42 days; adds improved title protection for licensed physical therapists; and defines the role of a physical therapy aide.
"This bill elevates our profession by providing contemporary terminology to describe the role and responsibilities of physical therapy," said Regan Johnson '19 (DPT) '17 (exercise science).
After reviewing grassroots efforts in other states, Johnson approached Dr. Slaven in 2017 with the idea of writing a physical therapy resolution for the Indiana legislature. Her theme aligned with the American Physical Therapy Association's #ChoosePT campaign to promote physical therapy as a safe and effective alternative to opioid medications in the management of chronic pain.
In 2018 and 2019, hundreds of students, clinicians and other physical therapy advocates from around the state attended Physical Therapy Day at the Statehouse. Johnson had the opportunity to read her resolution during Physical Therapy Day in 2018, and two lawmakers, Sen. James Merritt and Rep. David Frizzell, adopted the language for House and Senate resolutions.
"If students want to advocate for their patients, they need to be part of the conversation and not expect somebody else to do it for them. Advocacy work helps students appreciate the importance of their voice," said Dr. Slaven, who was recently named 2019 University of Indianapolis Teacher of the Year.
Johnson plans to continue advocacy work as she continues her career.
"The physical therapy profession has so much to offer. It is our responsibility to first educate others about our role and then provide quality patient care," she said.
Students become subject-matter experts
The same day that physical therapy students visited the Indiana Statehouse, public health students from the University of Indianapolis were advocating for gun violence prevention. Students participate in a Statehouse visit as part of the program, as well as writing letters to lawmakers and news outlets advocating for a variety of public health policy issues.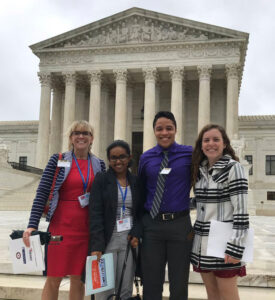 "Health policy and advocacy are competency areas in the public health program," said Dr. Heidi Hancher-Rauch, director of the public health program, which includes a BS in Public Health Education and Promotion and Master of Public Health (MPH). "We teach it in the classroom, but it makes a lot more sense to students when they see it come alive."
Students and faculty in the public health program also collaborate on research. MPH students Any'e Carson '18 and Yordanos Gebru '19, along with Dr. Hancher-Rauch, published an article in Health Promotion Practice detailing their experience in planning and executing the 2017 Statehouse Advocacy Day on behalf of the Indiana Society of Public Health Education and a second article regarding quick advocacy tips for those with little time.
Dr. Hancher-Rauch said the public health program takes a systems-level approach that encourages students to get outside of their own silo and expand their communication skills as subject matter experts.
"Students learn how accessible and responsive many of their legislators are if they just reach out to them and share a knowledgeable opinion. They're learning that it's a professional responsibility," she said.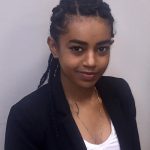 The impact of advocacy work at the University of Indianapolis extends well beyond the state level. Students in both the undergraduate and MPH programs traveled to Washington, D.C. with Dr. Hancher-Rauch to present advocacy strategies to reduce gun violence at the Society for Public Health Education Advocacy Summit in October 2018. The national event brought students and professionals together to advance the discussion of firearm-related violence as it relates to public health.
These experiences helped me develop my professional skills by providing me the opportunity to expand my scope of knowledge, not only about public health but also the different ways I can mobilize change.

Yordanos Gebru '19