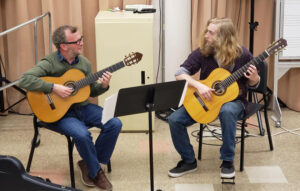 When Nolan Winters '22 participated in the 2019 Guitar Art Festival in Belgrade, Serbia, it was his first time outside the United States. The experience inspired a new long-term career goal: to win an international guitar competition.
"Not only were the city and people beautiful, the music at this festival was like nothing I had ever been exposed to," said Winters, who is studying guitar performance with a concentration in composition and teaches lessons at a local studio.
Creating the space for life-changing professional opportunities is a goal built into the curriculum at the University of Indianapolis. As a student of the Department of Music's blossoming classical guitar studies program, Winters has participated in on-campus master classes with world-renowned guitarists such as Andrew Zohn, Daniel Quinn and Martha Masters.
Nemanja Ostojić, associate adjunct professor of classical guitar studies, organizes the classical guitar series that brings an elite musician to campus every semester. The series is made possible by a generous gift from Jerry Roush, in memory of Nyla Roush.
I've had the pleasure to work with world-class guitarists and learn from true masters of the art. I walk away from each master class as a better musician.

Nolan Winters '22
The series is designed to spark interest throughout the community as the University prepares to host the Guitar Foundation of America's annual convention in June 2020.
"When students experience the thrill of working with internationally recognized guitarists, that's going to build on the excitement leading up to the convention next year," Ostojić said.
The six-day convention is the single largest classical guitar event in the world, featuring three concerts per day that are open to the public, plus lectures, workshops, master classes, competitions, a Hall of Fame awards ceremony, and two guitar orchestras. Winters is already excited to attend.
"I plan to compete in the all-ages category and attend the master classes. Because of festivals like this, people will be exposed to international music and fantastic fingerwork in all styles," he said.
Meantime, Winters' next stop is Parma, Italy, to compete in the BorGuitar Festival—and take the next step toward his big goal.
Learn more about UIndy's Music Programs at uindy.edu/music