The sweet sounds of WICR (88.7 FM) have thrilled jazz and classical music fans in Indianapolis since 1962, and since then, the student-run radio station has grown into a springboard for launching successful careers in broadcasting.
From freshman year, University of Indianapolis communication students get the chance to build their skills at WICR (aka 'The Diamond') as they work on-air and behind the scenes to learn all aspects of radio production.
Communications major Mallory Moreno '19 has built an impressive portfolio as she prepares for a career in the industry. Moreno is already working part-time in promotions and on-air at Radio One in Indianapolis and was recently honored with a 2019 Award of Excellence from the national Broadcast Education Association Festival of Media Arts competition.
"WICR has exposed me to all of the excitement and challenges of successfully running a radio station and that has opened a lot of doors for me. I will walk away from WICR with both the confidence and ability to pursue my true passion. There's just no substitute for real-world experience when you're trying to break into this industry," said Moreno.
The total exposure Moreno describes is by design. Scott Uecker, WICR general manager and instructor of communication, places a high value on mentoring students and growing their practical skills.
"I don't know of another station in the country, much less one in a top-40 Nielsen market, that plays jazz and classical music and puts 50 students on the air each semester," said Uecker.
WICR veterans have gone on to pursue broadcasting careers in the central Indiana market and at outlets across the country. Communications graduate Jenna Tucker '09 recently returned to her home state of Indiana to host a midday show on WFMS after working at KNCI in Sacramento, CA.
"I wouldn't be in radio at all without WICR," Tucker said. "You actually get to be on air with someone training you. Being on staff and putting in the extra hours definitely helps you get a lot more hands-on experience than you would without it."
Tucker advises students wishing to pursue a broadcast career to get out of the classroom and into the studio.
"This is one of the best programs out there where you get to learn what we actually do in 'professional' radio every day. Plus, Scott is a great resource. He knows a lot of people," she said.
There's just no substitute for real-world experience when you're trying to break into this industry.

Mallory Moreno '19
UIndy communication alum Nikki Reed '07, is an Indianapolis radio personality who co-hosts a popular morning radio show on WZPL-FM 99.5.
"Professor Uecker took note of my flair for talking and suggested I try radio. And here I am. It says a lot about a university where faculty work with you one-on-one and help you leverage your abilities to be successful," said Reed.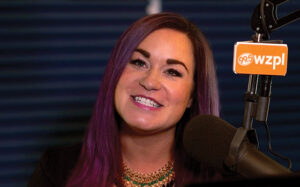 It says a lot about a university where faculty work with you one-on-one and help you leverage your abilities to be successful.

Nikki Reed '07
Listen to live online broadcasts at wicronline.org
Twitter: @UIndyCOMM @WICROnline