Alysa Epperson '21 always thought she'd follow in her older sister's footsteps to become a nurse, but her knack for math and science steered her in an equally challenging direction. At the R.B. Annis School of Engineering, she's now forging her own path in industrial and systems engineering. And she's getting amazing hands-on experience thanks to a paid internship she scored during her freshman year.
When she's not in class, you can find Epperson working at C.H. Ellis, an Indianapolis manufacturer specializing in custom cases for industry, agriculture, military and other applications.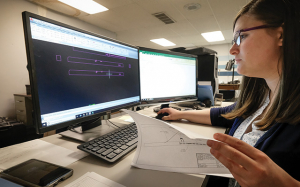 Epperson creates CAD drawings, which are two-dimensional illustrations that show all of the project's details. She collaborates with the sales and design teams to finalize the design for production.
The R.B. Annis School of Engineering's DesignSpine curriculum, which provides students with practical experience starting their sophomore year, prepared Epperson to tackle real-world problems.
"It's a lot of hands-on and you get to apply the skills you're actually learning in class. It was easier for me to make the connection from the DesignSpine curriculum to what I'm doing in my internship," Epperson said.
Epperson has been so effective in her position that when her supervisor left the company last year, C.H. Ellis did not seek a replacement, but instead had Epperson fill the role. The company also has offered her a job upon graduation.
"Alysa has become a key part of our team, even as a part-time employee. We were very excited that she was able to continue with our company after the summer was finished. She has grown continuously in her skills as a CAD draftsperson," said Jeffrey Hale, president and COO of C.H. Ellis.
"When talking to other students about their internships, this experience has definitely given me a lot more responsibility than what they had during their internships," she explained.
She credits José Sánchez, associate dean of the R.B. Annis School of Engineering, with encouraging her to seek out the internship. She applied to 15 different companies and heard back from two, eventually landing an offer from her current employer.
Epperson appreciates the small student-faculty ratio at UIndy as well as the vibe.
"From my first time on campus, I knew that I was coming here. There's just something about UIndy that drew me in. Everyone was very friendly. It was really exciting that I'm going to be one of the first classes to graduate [from the R.B. Annis School of Engineering]," Epperson said.
The R.B Annis School of Engineering opened in March 2017 thanks to a $5 million donation by the R.B. Annis Educational Foundation.
Learn more about UIndy Engineering at uindy.edu/engineering