For her Honors Project, elementary education major Marissa Ellsworth '19 wanted to visit Verona, Italy, to study cultural differences in early childhood education programs.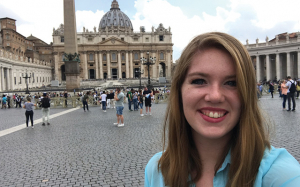 In May 2018, Ellsworth embarked on a once-in-a-lifetime experience made possible by the Strain Honors Project Research Grant and the Greyhound Adventure Grant. She was immersed in an Italian preschool classroom for nearly a month, where she confronted new challenges and learned a lot.
"I tell students to dream big and think of ways the Honors College can support them in the exciting research they want to do," said Jim Williams, executive director of the Ron and Laura Strain Honors College. "Not many students have dreamed as big as Marissa did."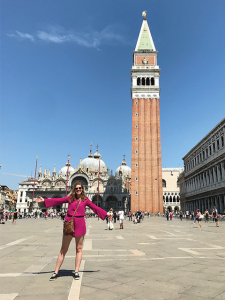 "For the first time in my life, I was a minority," Ellsworth said. "I couldn't communicate verbally for most of my trip, but there is no language barrier for love. The kids shared hugs and smiles, they held my hand, they took me where they needed me to be. I taught them thumbs up and thumbs down so
I could check on them."
Creativity is an important part of the Italian curriculum, said Ellsworth, who hopes to bring a similar philosophy to local classrooms.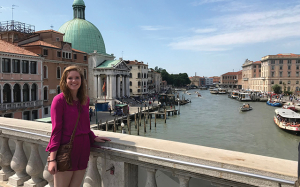 "I want kids to be able to express themselves however they want: dance, sing, write, paint, build."
She returned to the Indianapolis campus excited to bring new ideas to her student-teaching role during senior year.
"Italy refreshed me and reminded me of everything I want to do with a career in teaching," Ellsworth said. "It opened my eyes to how I can incorporate new activities into my classroom and infuse creativity into my lesson planning."
"UIndy has one of the best education programs. I'm not scared or nervous to walk into a classroom and teach. There's an incredible amount of practice and support here."

Marissa Ellsworth '19
Learn more at uindy.edu/education