As a middle school student in Marietta, Ga., Jordan Loyd '16 dreamed of playing in the NBA. He took it so seriously that he wrote a mission statement, which still hangs on the wall in his childhood home, about working hard and earning the opportunity to play professional basketball. He realized his dream in August 2018 when he signed with the Toronto Raptors and became the first UIndy Greyhound in history to play in the NBA.
Loyd's college experience started at Furman University in South Carolina, but an injury requiring back surgery, coupled with head coaching changes after his freshman year, left Loyd wanting more.
"I needed a fresh start as I was trying to get healthy," Loyd said. After a family friend introduced him to UIndy men's head basketball coach Stan Gouard, he made the decision to transfer to Indianapolis and become a Greyhound.
Loyd, an environmental sustainability major, stayed focused in the classroom and on the basketball court with the help of his coach and mentor, Gouard.
"I am very proud of all of my former student-athletes, but am extremely proud of Jordan for accomplishing his goal of graduating and playing basketball on the highest level possible," Gouard said. "It doesn't get any better."
Loyd's success in the classroom led to his desire to understand the environment and how humans use it. "Jordan was a diligent, focused student with many different interests," said Kevin McKelvey, director of the social practice art program and associate professor of English. He finished his academic career with a senior capstone project—researching food deserts in Chicago, Indianapolis, Atlanta and Baton Rouge.
"Just looking at food portions is interesting. The way we go about eating in America and then other countries like Canada and Israel are two totally different things," said Loyd.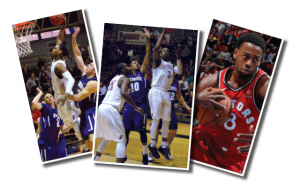 Loyd's ability to adapt, and thrive, as he has lived in different countries and cultures has helped him achieve his initial milestones in the NBA.
After graduation, Loyd was selected 48th overall by the Fort Wayne Mad Ants in the 2016 NBA G-League Draft and started an impressive journey which has allowed him to play and live outside the US.
"If anyone is deserving of this opportunity, it is Jordan," Gouard said. "He was the true definition of a student-athlete."
"My next goal is a multi-year contract in the NBA," Loyd said. "I feel like I have a foot in the door, but I'm only on the way to where I want to be. And I just want to keep setting new goals from there."
"My education at UIndy has given me an open mindset, which has helped me when traveling to other places and be able to adapt."

Jordan Loyd '16