As the nation commemorates the Women's Suffrage Centennial in 2020, two women at the University of Indianapolis are working behind the scenes to celebrate a forgotten figure in Indiana politics.
In Spring 2019, Karlee Taylor '20 (political science) and Dr. Laura Merrifield Wilson, assistant professor of political science, were awarded a $2,000 Shaheen Scholarly Activity Grant from the University. That was the impetus for rediscovering the legacy of Harriette Bailey Conn, a political pioneer who was both the first woman and the first African-American to be appointed State Public Defender in 1970, a position she held until her untimely death in 1981.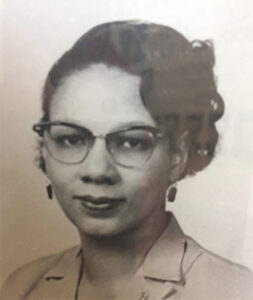 Bailey Conn was also the first Republican African-American woman elected to the Indiana General Assembly, and the first African-American to earn a Juris Doctor degree from Indiana University Law School. Yet many people don't know of her remarkable accomplishments.
"I'm a lifelong Hoosier and so is she, but I'd never heard of her," said Taylor. "She's a phenomenal woman everybody should know about. It's remarkable that she broke so many barriers despite all the odds she was facing."
In addition to raising seven children and going through a divorce, Bailey Conn was deeply involved with her community and civic organizations such as the National Association for the Advancement of Colored People, the Indianapolis Urban League, the Indianapolis Women's Caucus, the American Bar Association, and the U.S. Commission on Civil Rights.
During the research process, Taylor and Wilson met three of Bailey Conn's children, including Sidney, the informal family archivist. He donated several boxes of materials related to his mother's career to the Indiana State Library following her death, a kind of hidden treasure Taylor and Wilson were thrilled to uncover decades later.
They each found meaningful personal connections to Bailey Conn's story.
"This kind of project is so important to me–and to both of us really–because there aren't many women involved in government and that kind of representation really matters. There's no greater inspiration and motivation to know you can do it too," Wilson said.
"I'm a biracial woman, and I can't even comprehend the struggles she faced. I go to sleep thinking about her sometimes," added Taylor, a first-generation college student.
The more they learned about Bailey Conn, the more they felt compelled to do something special in her honor. Wilson and Taylor submitted a proposal to the Indiana State Historical Marker Program, requesting a plaque be installed near the Indiana Statehouse. The request was accepted, and they were granted an Indiana Women's Suffrage Centennial May Wright Sewall Fellowship from Indiana Humanities in support of their work.
"We never envisioned the project going this far!" Taylor said.
The historical marker will be installed in Spring 2020 in downtown Indianapolis. The pair is planning a community celebration in Bailey Conn's honor on Friday, May 1, commemorating the 50th anniversary, to the day, of her groundbreaking appointment as State Public Defender.
"I hope someone reads the marker and learns her name. I hope a little girl walking down the street can see it and have some inspiration," said Taylor. "Plus, she's getting the recognition she deserves and I know her kids are excited for that."
"She was a public leader, and the public should know about her," Wilson said.
Follow the University of Indianapolis on social media for information about the May 1 dedication of the historical marker commemorating Harriette Bailey Conn.
UPDATE:
The fight to solidify Harriette Bailey Conn in Indianapolis history has finally come to a close! The plaque commemorating this forgotten Hoosier was put up on November 15th, 2021, to the delight of Wilson and Taylor. Despite the cold weather, everyone was thrilled to attend the dedication of the Indiana Historical Bureau marker, especially Taylor, who had come up from her second year of of doctoral studies at the University of Georgia just to be there. When asked about the ceremony, Wilson had this to say:
"It was literally years in the making, since we started this research back in the spring of 2019 but the resulting marker was absolutely worth it. Harriette Bailey Conn was an incredible woman whom Hoosiers should know and this marker will make it easier for them to learn. Finally, it really is a collaboration from start to finish and it was fun to work with other partners as the process evolved and get to share in the joy of this research with others."