From international learning experiences to unique research projects, Shaheen Grants are opening the door to a world of discovery.
Students within the Shaheen College of Arts & Sciences are eligible to apply for Shaheen Grants, made possible as part of the generous multimillion-dollar naming gift in 2015 by Yvonne Shaheen, immediate past chair of the Board of Trustees and current chair of the Campaign for the University of Indianapolis. Grants are available for students and faculty in the following areas: research, leadership and career readiness, educational travel, and community engagement.
"Shaheen Grants helped support nearly two dozen student and faculty projects during the past year," said Dr. Debra Feakes, dean of the Shaheen College of Arts & Sciences.
"We express our gratitude to Mrs. Yvonne Shaheen for her generosity, but also extend it to our faculty who facilitated research and travel opportunities, allowing students to maximize the advantages of their grants."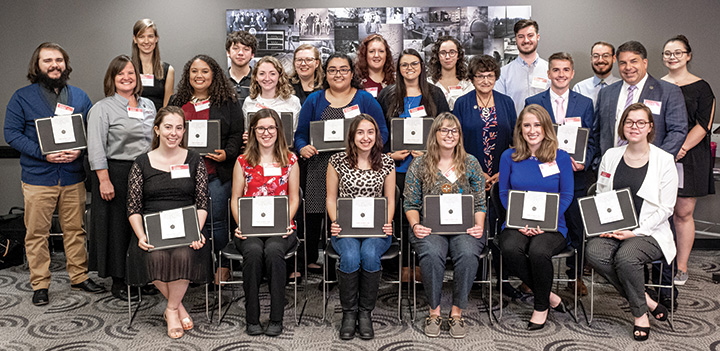 Brenda Nunez '20 (biology) traveled to Scotland for a study abroad opportunity as a Shaheen Global Fellow. She was able to focus on a love of hers that, as a biology major, she doesn't get to experience as often as she'd like: literature. She also learned how to travel independently and adapt to different environments.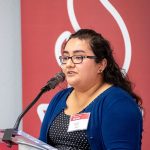 "When I first came to UIndy, I knew that I wanted to study abroad, but I did not know if that would be possible," Nunez said. "The Shaheen Grants made it possible."
Corrie Lykins '20 (political science and philosophy major, legal studies minor) also traveled to Scotland for her first trip outside of the United States. "Thanks to this grant, I now have a different vision and goal for myself. I want to be someone who is able to give back to my community," Lykins said.
Dr. Milind Thakar, associate professor of international relations, and Dr. Jennifer Camden, professor of English and the Beverley J. Pitts Distinguished Professor of the Ron & Laura Strain Honors College, led the program.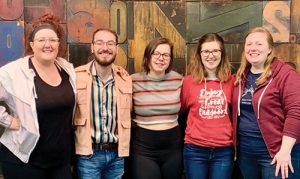 Katherine Fries '07 '11, assistant professor of art & design, and four students accepted an invitation to be specialized volunteers for the Hamilton Wood Type & Printing Museum in Two Rivers, Wisconsin. The group assisted in cleaning, cataloging, and organizing the museum's massive and important wood type and woodcut collections.
"As a student, UIndy instilled in me that hard work and creative, critical thinking can lead to wonderful opportunities," Fries said. "Thanks to the Shaheen Grants, we were able to blend the letterpress mantra 'Preservation Through Production' with UIndy's motto, 'Education for Service.'"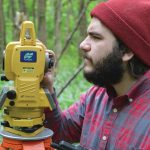 Nicholas Tibbs '19 (archaeology) '20 (M.S. anthropology) used his Shaheen Scholar Grant to complete an archaeological survey of an early pioneering site in Delphi, Indiana, as he works toward completing his thesis. Tibbs and his team of students used archaeological methods to find a farmstead and family cemetery that had long since disappeared from maps and surveys but were mentioned in family oral histories.
Tibbs and his project are part of a larger collaborative effort, the Wildcat Archaeological Research Project, led by associate professor and chair of anthropology Dr. Christopher Schmidt.
"This project allowed me to put my expertise into practice," Tibbs said. "I was put in a leadership position and I was able to pass on what I had learned in my undergraduate work."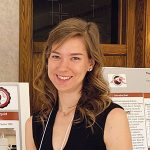 The research conducted by Rachel Hurrell '20 (chemistry major, biology minor) deals with investigating the purity of drugs obtained from developing countries. She uses High-Performance Liquid Chromatography, looking for drugs that are either substandard or falsified. Hurrell developed a method to facilitate the quantification of ingredients in the antibiotic at the center of her research. The Shaheen Grant gave her the ability to purchase resources for her project, conducted with guidance from Dr. Levi Mielke, associate professor of chemistry.
"My research, as a result of this grant, has taught me numerous invaluable skills," Hurrell said. "The method development process taught me to think critically, work independently, and also use resources both internal and external to UIndy to solve unfamiliar problems."