During a scene on the set of an upcoming movie, Colin Bowles '15 gets to practice his
acting skills by shoving an Oscar-winning actor. The film's writer and director Aaron Sorkin, also an Academy Award holder, addresses Bowles before the next take. "Aaron Sorkin gave me a direction," Bowles recalled with a laugh. "It was just to lift my hand higher, but still—he gave me a direction!"
This is one of the increasingly frequent times that Bowles cannot believe this is the life he's living, a mere five years after graduating from the University of Indianapolis with a communications degree and a job lined up as a sports broadcaster. Bowles' circuitous career path took him from internships at WISH and WTHR in Indianapolis to sports anchoring jobs at WVVA in southern West Virginia and WLFI in Lafayette before he ultimately decided to pursue acting and comedy in Chicago.
This winding journey culminated in September 2019 when Bowles' television series "Yuppies" premiered on Amazon Prime. As Bowles sets his sights on his next project, producing a short film, he can't help his amazement at his unexpected yet rewarding career path.
At the University of Indianapolis, Bowles was a student-broadcasting mainstay. He was involved in TV production and was a four-year member of WICR's student management team, traveling with various sports teams to cover their games with play-by-play duties.
From his junior year of college to shortly after graduation, Bowles endured several personal tragedies, including the loss of his mother to breast cancer. "I remember the day my mom passed away, one of the first people who messaged me was Dr. [Robert] Manuel," Bowles said. "For the president of a university to reach out to a then-junior was pretty impactful for me. I still talk with him and he has provided me with advice and helped me in many ways."
As Bowles settled into his career path, he questioned if it was something that would ultimately fulfill him. "I had two awful things happen kind of back-to-back," he said. "It was a real eye-opener and I started to re-evaluate."
"I always was more interested in telling stories in my TV packages. I never wanted to be the guy who broke the big news," he continued. "I wanted to see how many jokes I could fit into my sportscast."
After deciding to leave television, Bowles ended up writing for the nationally syndicated "Bob and Tom"show. "Writing jokes for the first time, seeing the different comedians come in, I was able to see that there really wasn't any difference between them and me," Bowles said. "That gave me the first sense that comedy could be something I could pursue."
Bowles did his research and continued to find that many famous comedians shared a common "everyman" background with himself. "Reading all of these people's stories really kind of motivated me and got me to the point of going 'Why not me?'" With newfound confidence, Bowles decided to embark on his second career by moving to Chicago and taking improv and sketch comedy classes at Second City, one of the most influential and prolific comedy theatres in the world.
It was while Bowles was working, studying, and performing at Second City that he had the idea for "Yuppies," loosely based on his own experience as a young person, dealing with tragedy, moving to Chicago, and pressing "reset" on life.
"Being around sketch and being around all these funny people so often you just kind of pick stuff up and slowly add it to the idea," he said. "It was really kind of a comedy snowball."
"As I started writing it, it became therapeutic and more than just a show," he said. "It was a big ball of creative energy that was built up in me from my time in broadcasting and having these ideas I couldn't get out because I had to be professional, and from being around all of these people at Second City."
Bowles leaned into his new contacts in the world of comedy and TV production and quickly found willing participants for his undertaking. Everyone who is cast in "Yuppies" is someone that Bowles met through improv classes and his time at Second City. He used crowdfunding and a small loan in order to get the production underway. "That was a good motivator. Once I took out the loan there was no backing out," he said with a laugh.
Aside from giving him the opportunity to create something and to write comedy, the story of "Yuppies" was important to Bowles. "I had this tragedy, and I don't think people knew how to talk to me about it," he said. "They didn't understand how I could say 'I'm okay,' didn't understand what I was going through—so this was kind of my vessel for communicating that."
Bowles hopes his burgeoning career in comedy and writing will continue to flourish and provide new and exciting opportunities—like the one he received when he attended a Saturday Night Live showcase last spring.
"It was an obvious longshot, but I was in the room," Bowles said. "Being at home in Indianapolis wishing I could do that is one thing, but I'm in a position now where I can do that—if I'm really talented. And that's a cool feeling."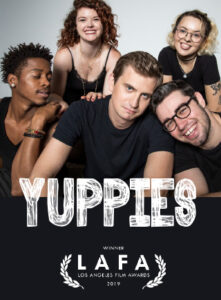 Watch Season 1 of "Yuppies" on Amazon Prime:
25-year-old Decker moves to Chicago to reconnect with his college buddies and run from past experiences. Decker learns that Chicago is a hard place to adapt to and runs into an inopportune relationship along the way as he looks to find himself and his purpose in a new place with old friends.