"Dreams come true sometimes," said Hussain Alhassan '18 about his job as a software engineer at Apple headquarters in Cupertino, Calif.
He didn't have a job lined up after graduating from UIndy with a bachelor's degree in computer science, but that didn't stop him from packing up his belongings and driving three days to pursue a career on the West Coast with one of the Big Four tech companies. A leap of faith, sure, but Alhassan had been preparing for this test throughout his time at the University of Indianapolis.
Alhassan, an international student from Saudi Arabia, immersed himself in extracurricular activities that helped him gain experience and strengthen his resume. He participated in regional hackathons, got involved with the UIndy Robotics Club and spent nearly three years as a student employee in the IT department.
"I worked and studied at the same time, and that's important because it tells potential employers you're working hard," he explained. "I was that guy who would spend the weekend playing with technology rather than playing video games and going to parties."
Rewriting the script that controls library book checkouts is iconic of Alhassan's work, according to Senior Applications Developer Marty Tormoehlen, his mentor and supervisor in the IT department.
"The system broke one day while he was here, and I asked him to try to figure out where the problem was. In about an hour he fixed the problem and also took the time to clean up other parts to make it run smoother. Hundreds of people use that system every day and no one knows he made it work. That's his style."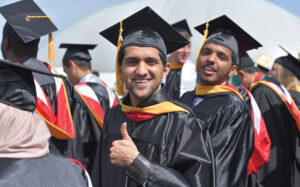 When Apple recruiters looked at his resume, they noticed projects he'd completed at UIndy that directly related to the skills they were looking for. Alhassan says those experiences helped him through a rigorous hiring process, including multiple phone screenings and a technical interview.
"Hussain was very ambitious, in a good way, from the beginning," Tormoehlen added. "He clearly had his eyes fixed on what his next steps would be after graduating and was willing to do what it took to succeed."
Looking for a job in Silicon Valley is extremely difficult, but my UIndy experience helped me stand out. In this field, your GPA doesn't matter as much as real experience.

Hussain Alhassan '18