As a chemistry major, William Durchholz '20 thought the only path to a healthcare career was through medicine. The launch of The Roche Academy, a new program available for chemistry and biology majors at the University of Indianapolis, is providing innovative avenues into the biotech device field for students like Durchholz to consider.
With nearly 93,000 employees worldwide, Roche is the world's leading biotech company with 17 biopharmaceuticals on the market, and was one of the first companies to bring targeted treatments to patients. Roche Diagnostics U.S. headquarters in Indianapolis is home to more than 4,500 employees.
Durchholz is among the first students to participate in the Roche Academy. Students accepted into the program will complete a Roche-customized curriculum path and summer internship experience focused on the hands-on, life science and engineering skills necessary for employment at Roche, with the goal of becoming a biomedical equipment technician. Students successfully completing the program will receive financial and educational incentives, including a job offer from Roche upon graduation.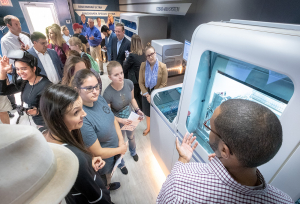 As an intern with Roche Support Network, Durchholz took part in professional development workshops and received valuable new science and computer skills. He called it "a fantastic experience."
"I had the opportunity to spend time with each part of this organization to get the 'full circle' perspective of how everything worked," said Durchholz.
That included shadowing specialists on how to troubleshoot instrument questions with customers. If the problem couldn't be resolved over the phone, Roche would dispatch an engineer to fix the problem on site. Durchholz sometimes accompanied the engineer in the field, and even took a class to learn how to conduct maintenance on the equipment.
"Overall, I am a lot more comfortable around complicated instruments and looking at a diagram on a two-dimensional piece of paper and translating that to the instrument in front of me," he said.
Durchholz met with a variety of Roche employees, from the CEO to staff who managed operations.
"I learned a little bit about the business world that I had never been exposed to as a chemistry major," Durchholz said.
Durchholz, who is a Presidential Ambassador and secretary of the Student Athlete Advisory Committee (SAAC), is grateful for UIndy's small student-faculty ratio that allowed him to work one-on-one with instructors – and to develop the skills needed for success.
"These relationships are why I have been successful and also why I was able to get this internship with Roche," Durchholz explained. "UIndy has prepared me to creatively solve complex problems, which is important to Roche and the work they do."
Learn more about the Roche Academy at uindy.edu/roche-academy