When Julie Larson '18 started her college search, the Carmel High School graduate had many options, but she was hoping to stay at the same university all the way to a doctoral degree. The University of Indianapolis' occupational therapy (OT) program proved to be the perfect fit, with valuable networking opportunities that only UIndy's tight-knit community could offer.
Larson enrolled in the "3+3" occupational therapy program, which allows students to obtain their bachelor's degree in three years and then enter the doctoral program for occupational therapy. She graduated in May 2018 with a degree in exercise science and a concentration in pre-occupational therapy, and will finish her doctorate in 2020.
"I loved the smaller school aspect of UIndy and the individualized learning. I liked how close students are to their professors, and the research opportunities even for undergraduate students to get involved with," Larson explained.
With her career goal set on working with children diagnosed with developmental disabilities, Larson is thrilled with the customized path that her program mentors helped her develop. The research experience she gained as an undergraduate is now paying off in graduate school as she studies how infants develop grasping skills.
"We're doing a full research project with hopes of publication and presenting at a national conference," she explained.
Larson is grateful for several scholarships she received, including the High Distinguished Dean's Scholarship which covered her first four years of study, as well as the I. Lynd Esch Scholar Award, the American Nystagmus Network Scholarship and several other awards. She has also participated in graduate assistantships in the UIndy Writing Lab as a graduate tutor and in the College of Health Sciences as an OT anatomy graduate assistant.
Larson's early attraction to math, science and anatomy, combined with her love of helping people, drew her to occupational therapy. Once at UIndy, she made it a point to continue the spirit of volunteerism and mentoring she developed in high school to create a full college experience. Larson was involved in several campus activities as an undergraduate, including the Presidential Ambassador program, College Mentors for Kids and others.
"Jumping on any opportunity I had gave me a well-rounded and holistic approach," she said.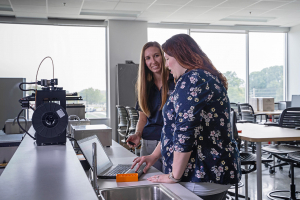 That included working as a direct support professional for Bridges of Indiana, which supports children with autism, and an internship at Riley Hospital for Children at Indiana University Health.
"That's always been a passion of mine- to stay involved with things that are near and dear to my heart," Larson said.
Larson said UIndy provides many ways to connect with local non-profit groups that give back to the community.
"Take time to experience all that UIndy has to offer," she said. "Definitely get involved. I really believe these organizations allow you to form those communities that will help you thrive in the future."
Learn more about the 3+3 Occupational Therapy program at uindy.edu/ot