"Education for service" often becomes a way of life for many University of Indianapolis graduates. For Maria Downham '16 (political science and psychology), she is using her expertise at the University of Virginia (UVA) School of Law to make a national impact.
Now a second-year law student, Downham recently volunteered to help secure justice for DeAndre Harris, a man who was attacked during the 2017 "Unite the Right" protests in Charlottesville just miles away from the UVA campus. She appreciated the opportunity to work on the case, which attracted national media attention.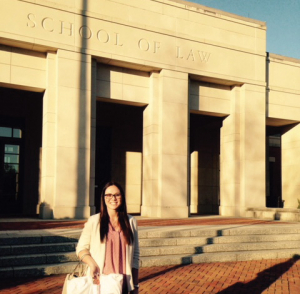 DeAndre Harris was brutally beaten during the protests, but was later charged with assaulting a man. Although Harris was eventually acquitted of a misdemeanor charge of assault and battery, his innocence was not a foregone conclusion. That's where Downham and her UVA colleagues stepped in.
"Being in Charlottesville, I realized the gravity of the situation and wanted to help," said Downham, who prepared trial materials. "This was my first time on the defense side and my first time with a real client. It was extremely rewarding." Downham credits the preparation she received as an undergraduate at UIndy as the key to her success in law school. After attending Carmel High School, Downham was looking for a college experience with small class sizes where she could interact with faculty, be an individual and form connections with fellow students.
That's exactly what she found at UIndy. Downham got involved in a variety of ways across campus: as a member of the Honors College, a student-athlete on the diving team and a Presidential Ambassador.
"What my faculty advisor taught me in the classroom, her guidance outside of the classroom, and her support were all crucial parts of my education, personal and professional growth," she said.
She also interned part-time for Indiana's largest county prosecutor's office in downtown Indianapolis, an experience that sparked her interest in litigation and inspired her Honors College project: creating a mock trial.
Over the summer, Downham worked at the United States Attorney's Office. She is now a member of The Innocence Project at UVA School of Law, a clinic dedicated to investigating and litigating wrongful convictions throughout the state. She looks forward to eventually moving back to Indiana with her husband, who she met freshman year at UIndy during Welcome Week.
Downham's story illustrates the full-circle effect of the UIndy motto, "Education for Service." Come to UIndy with a passion and we'll help you develop the skills to make a difference in the world around you – no matter where life takes you.