From the age of 11, Matthew Bridgham '13 always knew that music was his passion. The University of Indianapolis Department of Music proved to be a critical step on a journey that took plenty of twists and turns – all the way to a doctorate at Yale University.
In the five years since he graduated from UIndy with a degree in music performance and minors in theory and composition, Bridgham's music has been performed at the American Music Festival, Colorado Music Festival, New York Festival of Song, the Midwest Composers Symposium and more. A new set of variations for Yale colleague Eric Adamshick premiered in fall 2018, along with an hour-long studio album and sheet music book of Stardew Valley piano arrangements.
As a self-taught musician who was inspired at a young age by Grateful Dead tunes and a broken down organ, Bridgham's success was hard-won. Challenges at home and bullying at school led to academic struggles during Bridgham's senior year in high school. He decided to work full-time and save up some money so he could apply for college.
"There was something really special about UIndy."

Matthew Bridgham '13
As it turns out, the faculty in the UIndy music department felt the same way about Bridgham. They recognized something special during his audition and accepted him into the program, giving Bridgham the opportunity for a fresh start. He soon found himself on the Dean's List.
"I found a love for academia," he said. "There was something satisfying about being in a class, getting excited about learning something new and being rewarded intrinsically in the process. The support of my teachers and their willingness to work with me and my personality made the difference."
Plus, he says, UIndy mentors didn't give up on him as others had done in the past. They believed in his potential and pushed him to grow.
Music faculty hosted weekly practice sessions with Bridgham, taught special topic courses and encouraged him to engage in other extracurricular activities as a pianist, such as annual, state-level competitions. Bridgham also had the opportunity to study under and perform for world-class musical talent.
"These experiences framed my education as something that could be applied outside of the classroom," Bridgham said. "They fueled me in general because I could see my personal growth."
Bridgham says it was a combination of serendipity and hard work that helped him make his next big moves – first to the University of Michigan for graduate school, and then to Yale School of Music, where he is completing a Doctorate of Musical Arts degree in music composition.
During Bridgham's senior year at UIndy, music professor John Berners invited Grammy Award and Pulitzer Prize-winning composer William Bolcom to campus.
"I played one of William Bolcom's pieces for him, and afterward he told me it was the best he'd ever heard it played and offered to write a recommendation letter. It was an amazing, surreal experience."
While he was studying at Michigan, composer Martin Bresnick from the Yale School of Music came to visit and hosted a lesson with Bridgham. "Yale wasn't on my radar because I honestly thought there was no way I was good enough. But I impressed him, so I decided to go for it."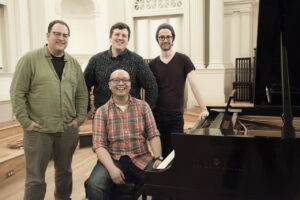 Bridgham proved to himself that he belonged at Yale when the results came back from his entrance exam: his were among the highest scores in the musical theory and analysis sections.
"My UIndy classes and all the preparation I had on campus – that's the only way I could've passed the test," he said.
Bridgham, whose wife also attended UIndy, still remembers the sense of community he felt around campus.
"Looking back, I see there were a lot of people rooting for me," he said.
Sometimes that makes all the difference.