Several internships and a part-time position with Community Health Network, an Indianapolis-based health network ranked among the nation's most integrated healthcare systems, also opened up important learning opportunities. Now, as he gets ready to enter the Indiana University McKinney School of Law, Bradshaw is reflecting on his academic quest.
"The main thing I've learned is don't be afraid to ask, because when you ask, opportunities open up for you," Bradshaw said.
There's always someone willing to help you if you reach out and ask – especially in a community like UIndy that's more close-knit than bigger campuses.

Jacob Bradshaw '18
Bradshaw's research journey began with a discussion about advanced care directives and medical law with Greg Manship, the University of Indianapolis director of the Human Research Protections Program.
"Greg's mentorship has been something I've carried with me through my research and projects that are going on at the university – and we have life discussions on a weekly basis," Bradshaw said.
That research about end-of-life care led to Bradshaw presenting his research paper, "Assessing Engagement and Knowledge Regarding Advanced Care Directives," at the Butler Research Symposium for undergraduates and at the International Health Congress at St. Hugh's College at the University of Oxford in England. He also presented his research at the American Public Health Association Annual Meeting in Atlanta, Georgia, and at the European Union Public Health Association Annual Meeting in Stockholm, Sweden.
"My experience at Oxford was really unique. I was there with a lot of front-runners in the field who took me under their wing," Bradshaw said. "Listening to other experts gave me a perspective of not only what's going on at UIndy and in the United States, but it gave me a bigger world view in general."
The University of Indianapolis' partnership with Community Health Network created additional hands-on learning opportunities. Bradshaw's internships with the health promotion department at Community Health Network included work as a data manager for the annual flu vaccine drive and a variety of marketing projects. He now works up to 30 hours per week as a staffing coordinator.
"What my internships at UIndy have allowed me to do is get lots of real world experience, growth and interaction with individuals I'm going to network with in the field," Bradshaw explained.
The Advantages of Research at UIndy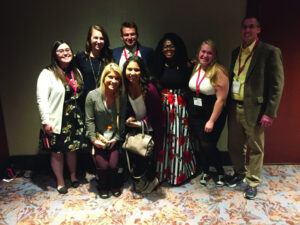 As early as freshman year, University of Indianapolis students are learning the career advantages of academic research. From the Ron & Laura Strain Honors College to national and international conferences, opportunities abound for research-oriented students who have graduate school in mind, or who are looking for an edge to become industry experts.
Rachael Walter '21 (exploratory) and David Kurz '18 (sport management) delivered the first interdisciplinary student presentation by University undergraduates at the 2018 Humanities Education and Research Association (HERA) Conference in Chicago. They attended the conference with Gerburg Garmann, Professor and Assistant Dean of Global Languages & Cross Cultural Studies.
"It was obviously a great honor for Rachael, Dr. Garmann and me to represent UIndy. In addition, it puts us into a pressure position to perform at our best," Kurz said.
Students in the Ron & Laura Strain Honors College participated in the National Collegiate Honors Council (NCHC) Conference in Atlanta, a national event to showcase the benefits of honors education and research.
Casey Wendorff '18 (biology, chemistry minor), Kaity Sullivan '18 (accounting and mathematics), Sierra Corbin '17 (biology, chemistry minor) and Delmar Oropeza '17 (biology, chemistry minor, pre-pharmacy concentration) presented research posters. Dierra Barlow '20 (theatre, psychology) and Zoe Cunningham '20 (theatre) performed in a drama master class. Lauren Bryant '18 (biology and psychology) acted as a moderator during the conference.
"The experience at the conference was beneficial. We received feedback from judges so that we could improve our skills presenting scientific research. It also was quite interesting to see what other students around the United States study," Corbin said.