There's never an hour wasted serving someone else," said Paige Dooley '85 (nursing). This sentiment has been a cornerstone of her career, and arguably of her life.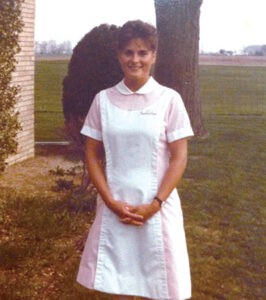 Dooley has worked at Community Health Network for more than 33 years, since graduating with an associate degree from the University of Indianapolis School of Nursing. Jobs were hard to come by at the time, but she quickly impressed hospital administrators with her willingness to learn.
Dooley began as a surgical nurse working the night shift, a position that taught her about the human condition as much as medical techniques.
"I love that in nursing, you can get close to people. They allow you into some of their most vulnerable moments. It's very powerful," she said. "When someone has a baby or receives a cancer diagnosis, I'm able to say, 'We have relief for your suffering. We can help.'"
In 2003, she moved into nursing administration, earning a Master of Science in Nursing and an MBA from Anderson University shortly after.
"As a nurse, I can help one patient, one family, one situation. Now, at an executive level, I can help the whole eastside population–about 255,000 people. I feel like I'm a nurse for that many people," Dooley said.
Her desire to help others seems to run in the family: Dooley's mom was a labor and delivery nurse at Community Health Network in the family's hometown in nearby Anderson. "I get a lot of joy out of helping others. I think I'm just wired that way," Dooley said. "As a leader I make sure that I eat last, so to speak, and put the needs of my team first."
Dooley credits her education at the University of Indianapolis for reinforcing this idea of servant leadership. "UIndy has such a great reputation in nursing. It set the tone for my career," she said. "It prepared me so well to have fundamentally sound judgment as a nurse and to get a great job."
As vice president of patient services and chief nurse executive at Community Hospital East, Dooley is responsible for about 800 staff who care for thousands of patients annually across central Indiana. She also leads the ethics committee, serves on the Institutional Review Board at Community East and has played an important role in developing the new eastside hospital, a $175 million project.
Dooley often puts in 12-hour days to make sure everyone else is taken care of–making rounds with her team of directors, meeting with fellow executives and filling the role of 'chief problem solver,' which is more of a nickname than a professional title.
"I don't mind problems," Dooley said. "Sometimes we have pretty complex, sensitive issues to work through–it could be life or death. I developed a reputation as a problem solver because I find the right people to pull together, communicate the goal and work through it together. It's about coming to the table with a 'how can I help?' attitude."
Dooley's compassion and commitment to her work haven't gone unnoticed. In 2018, she was named a Health Care Hero by the Indianapolis Business Journal, and in 2017 was honored by StarMedia's 2017 Salute to Nurses for Advancement in Nursing, a cherished moment in her career.
"I know I was named a hero, but I'm really not the hero," she said. We'll agree to disagree with her on that point.
UIndy Effect
Jean Putnam '17 (right), executive vice president and chief nursing officer for Community Health Network, works closely with Paige Dooley '85 (left) to support nearly 4,000 nurses and lead projects such as the inception of the new Community East hospital.
A registered nurse with more than 25 years of experience, Putnam received a Doctor of Nursing Practice from UIndy in 2017.