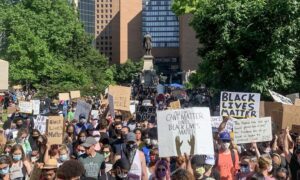 When protesters turned out by the thousands at the Indiana Statehouse in early June, it was estimated to be the city's largest demonstration against social injustice and police brutality in decades. For Tyshara Loynes '21, it was an electrifying experience that is providing momentum for a career focused on bringing about positive change.
Loynes was a co-founder of Black Women in Charge, a group of young women ranging in age from 16 to 21 who organized the Indianapolis protest in a matter of weeks.
"We're all Black women who want to help the community and focus on social injustices. We care about the unity of all people," said Loynes, a communication major at the University of Indianapolis.
While Loynes and her colleagues never imagined the June protest would be as large as it turned out, she said, "we are grateful that it was and that we could bring the city together—people from all walks of life to sit in and agree that Black lives matter and that we need a change. What makes it so powerful is that it's a movement supported by everyone, as it should be."
Black Women in Charge came together in the wake of George Floyd's death in police custody in Minneapolis, as well as in response to Dreasjon Reed's death by the Indianapolis Metropolitan Police Department, and similar incidents throughout the country. Loynes met her fellow co-founders at protests around the city and the group quickly realized they shared the drive to take action.
"We just felt like it's time to do something. It's time to say something. We need a change. It's bigger than all of us. It's bigger than Indianapolis. We want change for generations to come. We felt like that could happen by organizing," Loynes said.
"Protesting is amazing," she added. "It gets a lot of work done. That's what a lot of people don't recognize. They see it as a disruption—and yes, that's why it works, because it's a disruption of daily lives. We can't go on as usual with our lives when we're being killed simply for the color of our skin."
UIndy has helped me feel even more powerful. I feel like I do have a voice.

Tyshara Loynes '21
Loynes, who has a concentration in public relations and a minor in political science, honed her leadership skills through various roles with the University of Indianapolis Black Student Association. She also serves as president for the Chi City-Wide Chapter of Delta Sigma Theta Sorority Incorporated and the Circle City National Pan-Hellenic Council. She was recently inducted into the National Society of Leadership & Success, a national honor society, and she's gained valuable experience as a Southside Young Life leader working with the refugee community.
Loynes' combined passion for exercising leadership and providing a voice for the unheard helped to shape Black Women in Charge. Loynes said the name of the group was chosen with the specific intention of highlighting the often-overlooked contributions of Black women in the civil rights movement.
"Working with this close group of women has shown me that we are disenfranchised," she said. "There are so many Black women we don't talk about who were essential to the civil rights movement." Keeping this lesson from history in mind, Loynes said, "We're just as important as anyone else, but we don't get the same support. We want to be that voice."
Loynes has appreciated her studies at the University of Indianapolis, from a recent inspiring course about women in politics to an eye-opening lecture during her freshman year about revolutionary movements. Her academic experiences complemented her community engagement to create a framework for success.
"UIndy has helped me feel even more powerful. I feel like I do have a voice. Being on executive boards every year of my college career has shown me that I can do this," Loynes said.
Loynes is considering graduate school or law school among her next career moves. A future job is likely to be in the public relations area of politics, working with local, state or federal government.
"I just want to service my community and service the disenfranchised," she said. "That's what I feel like I'm called to do."