As a life skills clinician for Community Health Network, Sarah Danz '18 (bachelor of social work), '20 (master of social work) helps her clients find ways to face the challenges of daily life that many of us take for granted. Working with adults who have been diagnosed with severe mental illness, Danz ensures that they get to their appointments, keep up with medication and learn life skills.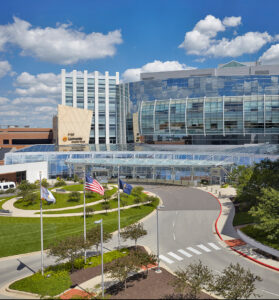 "The work is important because these are people who need someone to help them. I have clients who said, 'If you hadn't taken me to my appointment, I wouldn't have been able to go,'" Danz said.
Danz, who was hired at Community shortly after graduating from the University of Indianapolis in 2018, found her calling in social work. And thanks to the Community Behavioral Health Academy, a new partnership between the University of Indianapolis and Community Health Network, Danz will expand her skill set even further. She is part of the first cohort starting in fall 2019 and will complete the program in 2020.
The Academy, made possible through a grant from the Richard M. Fairbanks Foundation, is an educational training program that will yield 15 to 30 dually licensed clinical social workers annually who will be able to treat an additional 3,000 people in Indiana per year. Students who complete the program will have the preparation to apply for two licensures: the Licensed Clinical Social Worker (LCSW) and the Licensed Clinical Addictions Counselor (LCAC). Upon completion of the practicum, graduates of the program will be given priority interviews at Community.
"The dual licensure broadens their ability to work with clients and their families, as well as being an advocate and developing a specialty that could be beneficial to their career," said Wanda Watts, interim director of the Master of Social Work program at the University of Indianapolis. She pointed out the wide variety of settings where social workers may be found, including schools, treatment facilities, clinics and human resource departments.
Nationwide, the need for social workers has grown by 16 percent since 2016, according to the Bureau of Labor Statistics, with continued growth in the field expected through 2030. In Indiana, about twice the current number of 8,000 social workers is needed to alleviate the current demand. Adding to the complexity of the situation is the opioid crisis. Indiana ranks among the top five states in its rate of opioid use or dependency, but is 44th in its capacity to meet the needs of the state's population.
Clients who present with a substance use disorder along with other behavioral health diagnoses, such as mental illness, are referred to as having a co-occurring disorder. Some 60 percent of Community's clients have a co-occurring disorder, said Linda McClain, clinical director for Behavioral Health Services at Community.
"This program was created so that students have the education they need in order to appropriately assess and treat these clients," McClain said. "The goal is to have more licensed social workers for the community at large and especially ones that have that co-occurring ability."
Once in the program, students participate in intensive training during orientation, followed by supervision, training sessions and evaluation from field instructors throughout the program.
"It's a win-win for us in terms of developing a pipeline for hiring staff who are trained in the assessment and treatment of co-occurring disorders, and creating the opportunity for students to make themselves more marketable through the dual licensure," said McClain.
For Danz, the Community Behavioral Health Academy provides the chance to grow her skills as she pursues her interest in treating co-occurring disorders.
"For anybody that wants to go into social work, if your heart's in it, just do it. It's a great field. Some days it's very rewarding. You know you're working with people who are here to help others," she said.
Learn more at uindy.edu/chn.