Disappearances, a serial killer, true-crime podcasts. Don't Forget the Girl, the first novel written by Rebecca McKanna, associate professor of English and interim director of the Writing Lab at the University of Indianapolis, has everything fans of true-crime and thrillers love.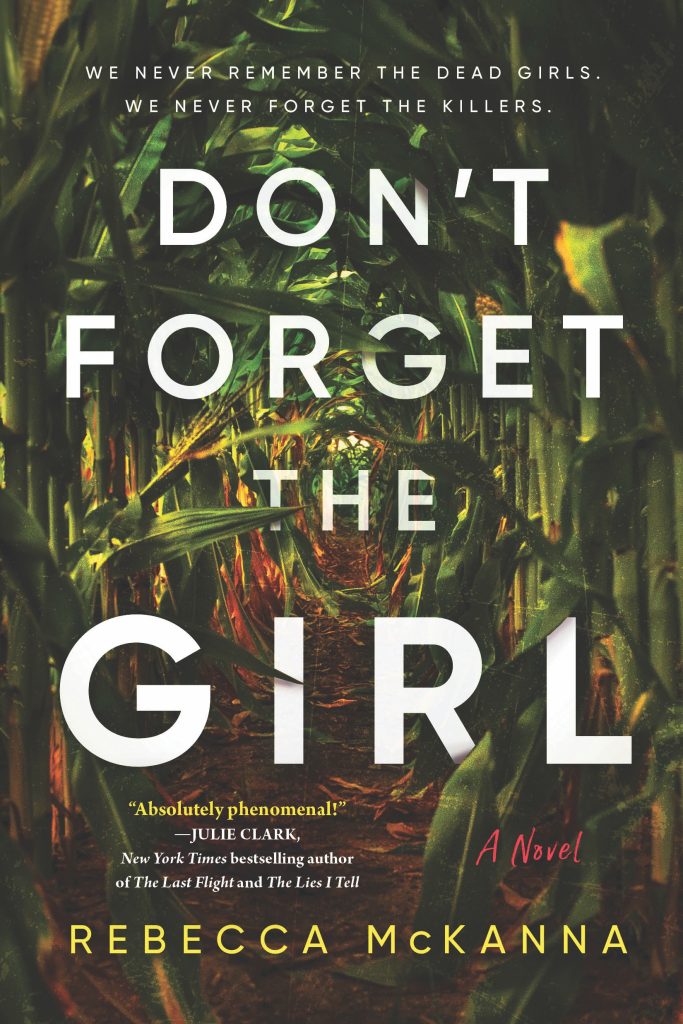 Don't Forget the Girl follows the friends and family of Abby Hartmann, who disappeared twelve years ago and is suspected to have been murdered by serial killer Jon Allan Blue. Abby's friends and family cope with the loss of Abby as Blue's pending execution sparks new intrigue in his victims. 
Don't Forget the Girl was a novel five years in the making.
Rebecca graduated with her Master of Fine Arts from Purdue University with a collection of short stories and dreams of publication. She started thinking, 'Can I put them together and make them into a linked collection?' And there was a common thread.
"There was one story about a girl who had been murdered," said Rebecca. "And I thought I could make this into a kind of linked collection about her murder, all the people that loved her and knew her, and how they are grieving."
Sound familiar?
Rebecca edited the collection for about five years, and began to query agents. However, as many writers have learned, short story collections are difficult to get published unless you've already made a name for yourself. Many literary agents expressed interest in Rebecca's works if she turned it into a cohesive novel, but didn't stick around to help her. That is, until Rebecca met her now-agent.
"She told me, 'If you're willing to turn this into a novel, I will go ahead and represent you while you work on it,' which was very generous of her," recalled Rebecca. "So that's when I overhauled the whole collection and it became Don't Forget the Girl. Really nothing from that story collection ended up in the novel, except for the characters and maybe like a line or two in some situations, but honestly it's completely different."
While writing can seem simplified in articles like this, it's not without its challenges. In addition to the challenge of turning a short story collection into a cohesive novel, Rebecca also had to overcome her own self-doubt.
"My own self doubt was a huge challenge," explained Rebecca. "With a short story, you can take it from the ugly little draft to a polished piece in such a shorter amount of time and so it doesn't have to be bad for as long. Whereas a novel has to be kind of not working and not cohesive for a much longer amount of time. And that really takes a toll on you every day."
Thankfully, Rebecca had a strong support system to lean on throughout the publication process.
"I'm lucky because I have a lot of really good people in my life," said Rebecca. "My husband is so supportive. He listened to every plot hole, every kind of doubt, like he talked me through it. I'm also really lucky to work with such kind and supportive people at UIndy. Academia can be really cutthroat and competitive, but that hasn't been my experience here. I'm really grateful for that."
Don't Forget the Girl was also recently optioned for film, meaning that a production company is currently renting the rights to adapt the novel for film or television sometime in the future. Rebecca met with David Heyman, founder of Heyday Films and primary producer for films including Barbie (2023) and the Harry Potter series, and, if the production moves forward, will serve as a consultant.
The past five years have taught Rebecca a lot; about herself, about writing, about publication. Rebecca plans to incorporate what she's learned into her courses at UIndy to benefit students in all of her courses – from professional writing to advanced fiction writing to introduction to composition.
"One big thing is the importance of revision," said Rebecca. "If I could summarize the process of writing the book, it was like write a draft, work as hard as you can, make it as good as you humanly can, and then listen to your agent tell you all the things that you need to fix, and then go back and do it again. A book is really made in revision."
What's next for Rebecca? She is currently working on her next novel, which may also be considered a thriller, but with more horror and supernatural elements involved. 
Rebecca will also appear as a featured author in this year's Kellogg Writers Series. Join KWS on November 15, 2023 to hear Rebecca read from Don't Forget the Girl and share more about her experience writing her first novel.
photo credit: Josh Saltsman