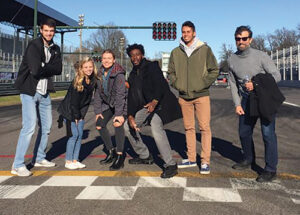 From the yard of bricks to a big drink of milk in Victory Lane, everyone knows how important auto racing is to the history and culture of Indianapolis. Recently, a group of Greyhounds had the opportunity to see how racing plays a role in the culture of Monza, Italy, one of Indianapolis' sister cities.
Six UIndy students majoring in sports marketing or sports management visited Monza in December for an up-close look at the motorsports industry through the lenses of technology, engineering, and performance. Monza hosts the Italian Grand Prix and is known for the Autodromo Nazionale Monza motor racing circuit. UIndy's Center for Global Engagement worked with the Sister Cities Committee to design a program that allowed the students to study the motorsports industry during the Monza Rally Show.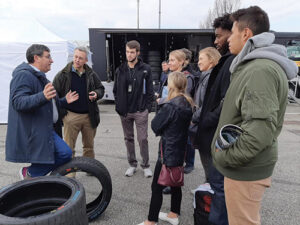 Students were on the track for the rally and had the opportunity to visit the factories where all of the braking systems and bodies for Indy Cars are made. They also spent time at the Motorsports Technical School in Monza.
Dr. Jodie Ferise, associate provost for international engagement, noted that the City of Monza covered transportation and associated travel costs.
"We are most grateful to them for providing this exceptional opportunity," said Ferise. "We hope that this project might become a prototype for work we can do with all of Indianapolis' sister cities around the world."
Going forward I will be able to use some of the knowledge I gained on this trip in my internship with the Indianapolis Motor Speedway. I believe I have a better understanding of what all goes into putting on a racing event.

Samantha Black '20 (sports management)
This was an extraordinary experience, learning all about the automotive industry and Italian culture. We had the opportunity to talk with an event marketing manager from the City of Monza and learn how events are put on, as well as learn a lot about the city's history.

Guilherme Zavaneli '20 (sports marketing, information systems & applied business analytics minor)
This trip to see the Monza Rally Show was a once-in-a-lifetime opportunity that enabled me to further my education and gain exposure to new cultures. It has made me more knowledgeable in the sports event planning industry and opened up new options that I can pursue once I graduate.

We met with members of the city council board and discussed differences and similarities between the political systems in Italy and the United States. I also learned many things about the Italian people and their culture from the people we were given the chance to interact with on this trip. They were very welcoming people and were willing to share information with us freely and then they would listen to and learn from us as well.

Erik Edwards '20 (sports marketing)
I will take the things I have learned into my jobs in the future. Understanding how different countries run major events will be beneficial to know when I am working for a sports organization that puts on major events.

Alyssa Goen '19 (sports marketing, now works as social media coordinator with USA Gymnastics)