You can't talk about Judy Bentley's family history without also mentioning the University of Indianapolis. For starters, it's where her parents, Robert E. McBride and Luella Hart, met during their first year at Indiana Central College in the early 1940s. Her mom and dad both worked in the school kitchen and forged a romantic connection while cleaning pots and pans together.
What happened next is documented in Judy's book, 25 Sugarland Road, Letters of Love and War, 1943-1945, published by the Indiana Historical Society Press. It's a compilation of letters that Bob and Luella wrote to each other during World War II as they interrupted their education, navigated a time of great deprivation, and started a family together.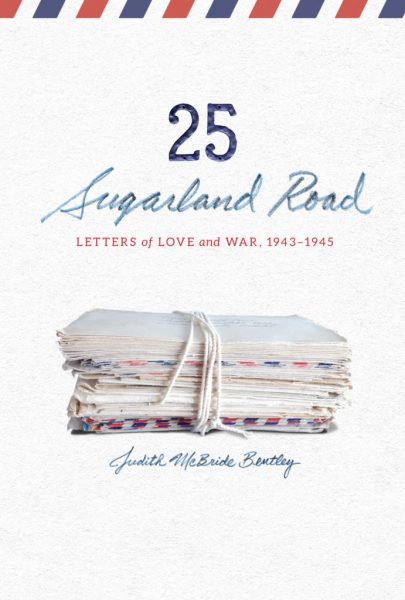 "I have selected family letters from 1943 to the end of 1945 and narrated the necessary background and war information," Judy explains. "The book includes their engagement picture on a bench in front of the old college administrative hall and several mentions of what is now the University of Indianapolis."
The letters were discovered by family after Luella and Bob died, and it wasn't until Judy read the collection years later that she realized what a special discovery they'd made.
Readers can follow along as Bob proposes to Luella in front of Good Hall in 1943, as they get married in 1944 on a three-day military leave, and as Bob receives written word from home that his wife is pregnant with their first child, Judy. Letters from Elwood (Woody) McBride, who was an outstanding basketball player at ICC, are also included in the book.
"We don't have another story like this, with artifacts like these letters in the archives," said Michael Cartwright, Vice President for University Mission and Associate Professor of Philosophy & Religion. "The book presents a unique view of what students were doing, thinking, and feeling during World War II."
It's also a story about seeing the world differently; for example, Bob left rural Indiana to visit exotic locations like London, Berlin, and Paris during his time as a military medic, writing home about experiences with people from different backgrounds than his own.
Related: Read Indiana Historical Society's Q&A with Judy Bentley
After the war, Bob and Luella returned to the ICC campus and lived in married student housing at Cummins Hall with their daughter while Bob completed two and a half years of college. After graduating in 1948, he attended seminary in Ohio, worked on his doctorate at the University of Chicago, and then returned to Indianapolis to teach philosophy and religion at Indiana Central College. (During these years, he supported the family as a minister in the Evangelical United Brethren Church.)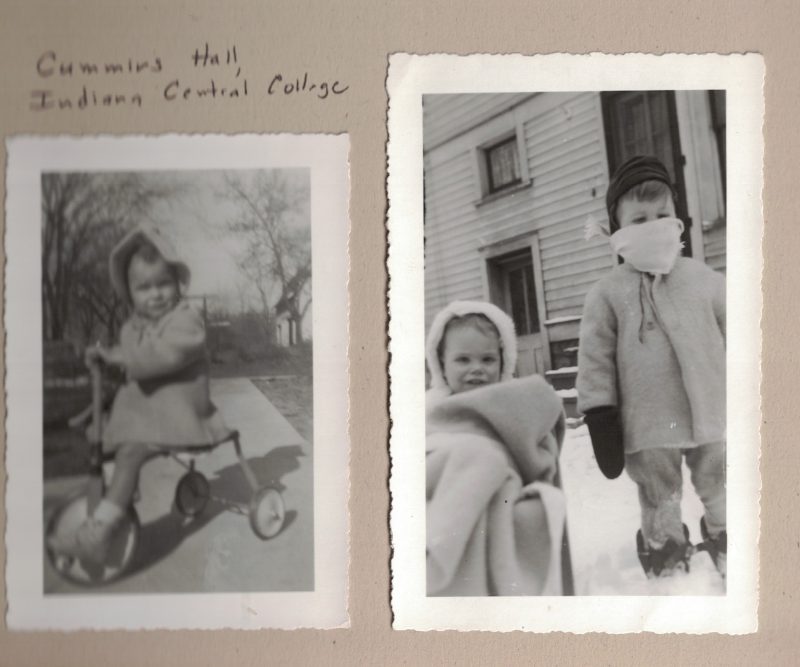 In 1954, the McBride family moved to a house on Castle Avenue in the University Heights neighborhood, which is where Judy grew up from fourth grade through high school. She writes that it was a neighborhood where the church, school, and community all overlapped; it was also a very White, Protestant, homogeneous place.
Judy remembers roaming the area with friends, attending services at the United Methodist Church, and going to see the musical Oklahoma! on UIndy's campus. Judy's brothers, Ron and Steve, were fast friends with Russell Brooker, son of chemistry professor Bob Brooker, who lived down the alley from the McBrides. The McBride family also hosted events for students at their house on Castle Avenue. 
"The Philosophy Club met in our home, and my mother always made good dessert for that. I sometimes listened in," Judy said.
Meanwhile, Luella became a secretary for the Evangelical United Brethren Conference South office, working in the basement of Buxton Hall (now known as the Stierwalt Alumni House), and Bob became known as an intellectual force at ICC who encouraged students to think carefully and rigorously. Before retiring, he wrote a memoir titled A Family Affair, which can be found in the University of Indianapolis archives. 
Although Judy no longer lives in central Indiana, the University of Indianapolis continues to hold a special place in her heart and in her family's history. Her dad was an accomplished student-athlete at ICC; maybe that's why Judy can still remember all the words to the old ICC fight song.
All royalties from sales of 25 Sugarland Road, Letters of Love and War, 1943-1945 will be donated to the University of Indianapolis.