The University of Indianapolis has undergone many changes over the last three-quarters of a century and few families have had a first-hand look at those changes like the Nicosons.
"The campus would be almost unrecognizable to anyone who went there while I was there," said twelve-year football assistant coach and staff member Dan Nicoson '68 (HPER and business). His son, national championship-winning women's golf coach Brent Nicoson '94 (business administration) added, "It feels like more a part of the city than it used to be. I definitely see more UIndy gear around town."
When Ben Nicoson '23 (exercise science, pre-physical therapy), Brent's son, enrolled at UIndy in the Fall 2019 to play basketball, he became a fourth-generation Greyhound, though because of his family, UIndy was home long before that.
Fans of Greyhound athletics no doubt recognize the Nicoson name for the eponymous gymnasium on campus that hosts men's and women's basketball games. Ben's great grandfather Angus Nicoson '42 (physical education and social studies) was the legendary coach of the Greyhounds from 1947 to 1977 where he amassed nearly 500 victories—a total still good for the most in UIndy history—and he also served as the director of athletics for UIndy for 30 years.
The three younger generations of Nicosons grew up on UIndy's campus, spending time around the athletes that their fathers coached. "I spent a lot of time there, especially in the gym, with my father being the coach and athletic director," Dan said.
"And I had to be there a lot because he was there," added Brent about his dad.
During home basketball games, almost all of which Brent attended, he remembers spending the game wadding up cups and shooting them at the trashcan like a basketball hoop for hours on end before Dan would finally come and get him. Another memory that Brent recalls fondly is picking up football game film with his father on Saturday evenings, picking up pizza, and going back to Coach Bill Bless' home and the coaches would watch film and the children would play football or basketball.
"Those memories are what made me feel like I was already part of the family," Brent said. "That's where it all started for me."
Many alumni, and those who have been involved in UIndy athletics in some capacity over the years, have Nicoson stories—about Angus, Dan and Brent, surely with Ben to follow—the family has heard practically all of them by now.
"Years ago I was taking a graduate class and the coach rolled out a chalkboard with a big hole on the corner," Dan said, "And the coach said, 'you'll have to pardon my chalkboard, Coach Nicoson got a little upset one time.'" Brent recalled another story that he's heard countless times about his grandfather kicking a box that he thought was empty and breaking a bone in his foot.
Even more than his fiery competitiveness, the biggest thing that Angus Nicoson passed down to his progeny was that they were charged with impacting their athletes as people first. "When my father passed away, many athletes came back for the visitation and funeral," Dan said. "I think without exception they emphasized what he meant to them in their lives. To me, that's what means something about coaches and UIndy in general."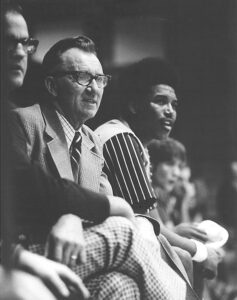 "That's one of the biggest things I've taken away from my family history here," Brent said. "People always mention that when they talk to me about my grandfather, it always comes up that he had an impact on their life so I've tried to do the same in my program."
The youngest Nicoson says that consideration is one of the few times he has really felt any kind of pressure regarding his family name. "As a freshman, stepping on the court in Nicoson Hall the first time and thinking about how many people played under my great grandpa was a lot to think about," Ben said. "But that has lessened over the last year."
"I've always felt more pride than pressure," said Brent. "I thought it was cool to be a third-generation coach in my family at UIndy."
Is there any coaching in Ben's future? Not afraid to forge his own path, he didn't think about it for very long. "I don't think so," he said, adding that he hopes to eventually work in outpatient physical therapy and perhaps one day own his own clinic. "He's the smart one," Dan joked. "He'll be the least stressed of all of us," Brent added.
Coaching the 1975 team that's now in the Hall of Fame. That was a great year. I'd also have to say Ben's first game. When he hit his first shot a friend next to me said 'That's the first Nicoson point in Nicoson Hall!

Dan Nicoson '68
The family lives in the present for the most part, not thinking too often about 75 years of family history at UIndy. "We do talk about UIndy a lot," Brent said. "But it's more about Ben's basketball games, or my dad is following my recruiting or our tournaments so we're talking about that."
One would be seeing Ben on the court for the first time in Nicoson Hall. But I've also got to include winning the first national championship. I remember after the final round being in the huddle afterwards and saying 'You've done something that no one else in the history of the school has done.'

Brent Nicoson '94
"It just feels normal to me, it's just where we're supposed to be. You don't want to take it for granted but it feels natural and I don't really think about it until I read stuff or I talk to someone and realize it really has been a long time. That is pretty surreal."
"I've thought about it more since Ben decided to go to UIndy," Dan added. "When I worked part time in development, that gave me a chance to talk to alumni that spanned some 50 years, and as they reminisced I would think about the school over the years and how impactful it's been."
A common experience among legacy families, having had a front row seat to both academics and athletics at UIndy, Dan and Brent had no problem with their sons attending UIndy. "Almost every alum that I visited with during my time in development focused on the faculty/student relationships," Dan said. "I've always appreciated how important that is at UIndy."
"Everyone cares about the students and athletes as people first," added Brent. "I know in my experience as a coach, we might all talk amongst ourselves about what's happening on the field, court, or course but the most common topic of conversation is how we're helping our kids and what we're doing for them. That made it easy for me to send Ben to school here."
With the arrival of the fourth-generation Nicoson on campus, nothing has exemplified a changing of the guard like a shared experience for both Dan and Brent: now being known as "Ben's father/grandfather."
"I've been through my whole life being asked about my dad or Brent," said Dan, "But that was a newer experience for me."
Back in 5th or 6th grade, Coach Gouard invited me back to the locker room at halftime, but they were losing so I was nervous about going back there. He had some choice words for the team and on the way back out he stopped me and said 'Ben, I'm sorry for that, but it had to be done.' That one stands out as well as going to other basketball games when I was younger.

Ben Nicoson '23