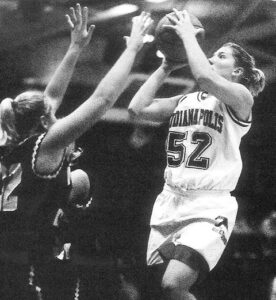 Elizabeth Ramsey '01 is a bit of a coffee enthusiast. In the midst of a run to grab a cup, she's rushing back to work, just weeks after stepping into a new, uncharted world as Director of Basketball Operations and Intelligence for the Sacramento Kings. She hops on the elevator at the NBA Draft Combine, eager to spot the next possible member of the franchise. Before the door can close, a legend walks in. She looks up and it's Jerry West, NBA Hall of Famer, also known as "the Logo," cracking a quick smile.
"Let me steal some of that," he says, eyeing the familiar Starbucks cup.
The 8-year-old inside Ramsey can't believe it, but she should. Thirty years later, she can still recall the Indiana Pacers games her parents took her to. She remembers watching the Chicago Bulls on WGN and the collision between both franchises when Michael Jordan returned from his foray in baseball. She still remembers being obsessed with sports and competition, caring not for the gender boundaries of baseball vs. softball, but rather longing for a place to just play.
"In order to survive, you have to have a little toughness," Ramsey said. "Growing up, I was constantly around men. I was used to being the only [woman]. That, by default, means you have to be comfortable in your skin."
The daughter of a labor union negotiator, Ramsey had the street smarts and interpersonal wit of her father, shadowing him on lobbying trips to the Indiana Statehouse and learning the ins and outs of relationship-building. It was those early real-life experiences that shaped her future.
A standout athlete at Greenfield-Central High School, Ramsey played several sports, but basketball was where her star shone brightest. At the University of Indianapolis, her Hall of Fame career saw her set records in points, rebounds and double-doubles. She was named Female Athlete of the Year for 1999-2000. She arrived on campus to play, win and become a physical therapist, but the latter quickly changed.
Ramsey was drawn to the law and how the world worked because of it. After changing majors to psychology and political science midway through her time at the University, a fellowship with the governor's office allowed her to experience work in a variety of venues while putting herself through law school. Eventually, a marriage between law and sports presented itself after a law clerk position led to a job as an investigator in the enforcement department at the NCAA.
Success to me was finding the truth, whether something happened or nothing happened.

Elizabeth Ramsey '01
Ramsey was tasked with investigating thousands of violations—both minor and major—and educating hundreds of institutions on how to play within an equal rulebook. But she never felt like the "bad guy" in 11 years as an NCAA investigator.
"You might find it shocking if you talked to some of the coaches I had cases with. They are some of the best relationships I had my entire time," she said. "I always tried to put myself in their shoes and put them at ease."
Her ability to connect with people saw her rise to a role overseeing the sport she knew best: basketball. That included working alongside elite college programs, the NBA, shoe companies, organizers and more. It was only a matter of time before a team came calling.
"I had people ask me, 'Would you ever work for an NBA team?'" Ramsey recalled. "'You have a unique background. You played. You have a master's, a law degree. You're female, you're an attorney. You have the relationships that bode well on a team.' I just honestly thought nobody would hire a woman," Ramsey admits.
As Director of Basketball Operations and Intelligence, today Ramsey oversees information-gathering on every player (current or prospective) that the Sacramento Kings are involved with. She has blended her incredible skill as a basketball player with her experience as a seasoned investigator. Ramsey was hired to make sure each of the intricate puzzle pieces fit to create a great franchise. She has stepped right into the role and thrived, challenged by the work to make a young, fast team better.
"Last year we had so many positive things happen with the team on and off the court," she said. "Seeing all of the upside and what that's going to look like next year and the year after, it's only going to go up."
At every step of her journey, Ramsey has had to stand out in a crowd, but she's not comfortable with the idea that she's a trailblazer. Rather, she's thrilled to do something she loves and be recognized for her value within an organization.
"I do think any high-functioning team that is very successful is incorporated and made up of people from various backgrounds, be it gender, race, financial background, where they went to school," Ramsey said, citing the connection she has built with her team in Sacramento. "If you want to get to the best answer, you need to have people from a variety of different backgrounds."
As somebody who has always sought the truth, she's found her career answer now.